The beauty industry has embraced CBD products in earnest, from infused lipsticks to CBD bath bombs, body lotions, soaps and scrubs.
In a world that's overwhelmed by products and claims of benefits, this rise in popularity has happened for a good reason. The potential physical and psychological benefits of cannabidiol (CBD) are persuasive and further supported nearly every day by the release of new research.
But, as researchers continue to uncover the medical benefits of CBD, consumers across the U.S. are discovering the spa-quality benefits of cannabidiol beauty, bath and body products in record numbers.
If you're skeptical, consider this. The venerable Estee Lauder brand, Origins, has introduced a facial mask featuring cannabis sativa oil. The Milk Makeup brand launched its Kush Mascara in 2018, earning rave reviews from customers. Kush Mascara replaced the traditional mascara binding agent, beeswax, with CBD oil. And dozens of small, artisanal beauty brands jumped on this bandwagon over the past few years as well.
Consumers are snapping up CBD-based bath and body products like crazy, praising the ability of these products to support their efforts in relieving stress, pain and inflammation. Also, these products just feel nice.
CBD Hand & Body Lotions
CBD moisturizers and lotions have forged a powerful reputation for their natural healing properties and the soft, luxurious sensation it provides.
Among the many benefits provided by these lotions are its anti-oxidant, anti-microbial and anti-inflammatory properties. The emollients contained within CBD oil provide long-lasting moisture without feeling greasy or heavy, and without clogging pores.
Users also report feeling energized yet calm and relaxed after using a CBD-based body lotion or hand cream.
CBD Bath Bombs & Milk Bath Powders
Who doesn't enjoy the relaxation of a luxurious bath? Now, add cannabidiol to the experience and you'll take bath time to an entirely new level.
Bath bombs are a not-so-guilty pleasure for many of us. A CBD bath bomb massages your muscles with fizzy goodness, softening skin and soothing aches and pain. Milk baths, celebrated by Cleopatra and the ancient Romans, replace frenzy with remarkable skin rejuvenation. CBD milk bath products, if you're lucky enough to find one, exponentially increase the skin benefits while adding a soft, relaxing dimension that will have your mind floating on a milky cloud.
CBD Soaps, Scrubs & Body Polish
Admit it, you're a secret scrub fanatic, aren't you? It's okay, we all are. Scrubs are the perfect, natural way to exfoliate and rejuvenate the skin – and they feel like a mini massage.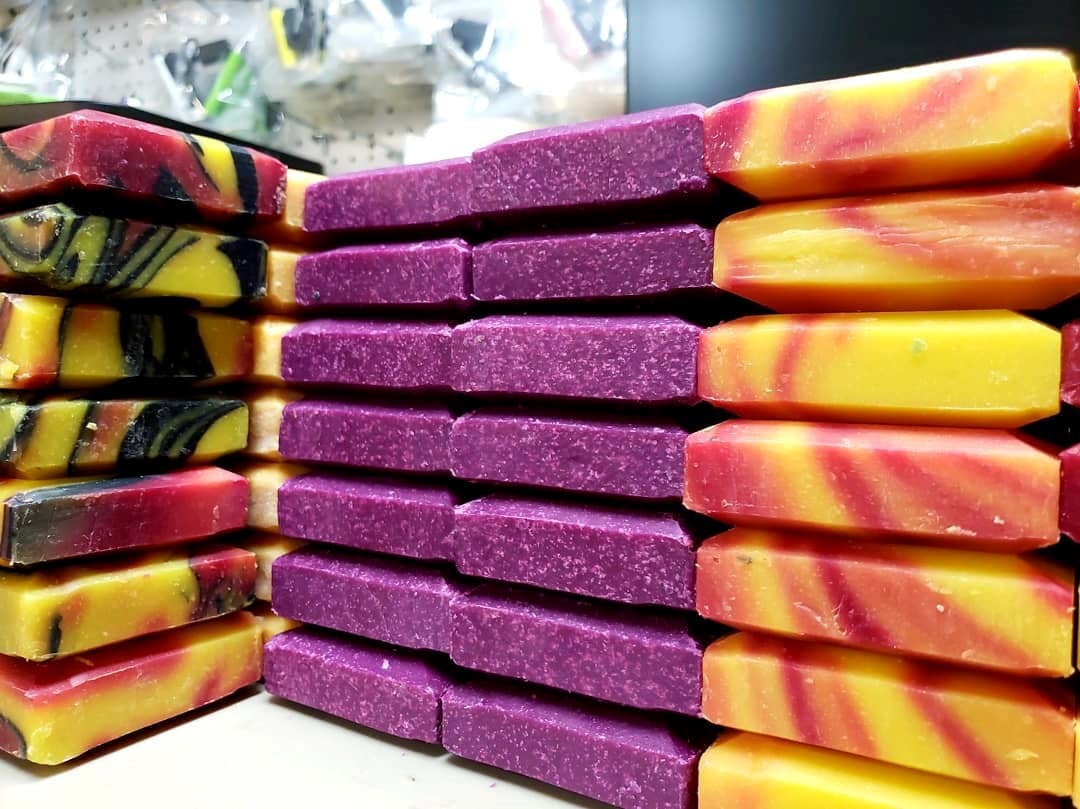 CBD scrubs and body polish (think softer, gentler scrub), especially sugar scrubs, invigorate as they exfoliate. The result is silky smooth, glowing skin that's less prone to clogged pores, dullness and uneven texture.
Although soaps tend to be rough on the skin, adding cannabidiol to the mix lets you swap the usual drying effects for thick, luxurious and moisturizing suds.
If you haven't experienced the difference that CBD makes in bath and body products, it's time you see what all the buzz is about.
At Koodegras, we have more than 100 specialty products, all carefully curated for quality. If you're in the Salt Lake City area, call us or stop by one of our convenient locations today. We promise you're going to love our bath and body products, including CBD bath bombs, lotions, soaps and our exclusive CBD-infused sugar scrubs.